Online Therapy | Liverpool | Merseyside | UK
Online Therapy For Mental Health | The Art of Emotions
Most people don't consider seeking therapy until they reach a point of crises. I advocate that everyone can benefit from learning how to attend to our emotional well-being, in the same way that we learn to attend to our physical well-being. This creative online therapy resource is not only for people who consider themselves in need of therapeutic support. It is an education for everyone.
The power of creativity within therapeutic processes has me constantly in awe. And I have loved being witness to powerful insights emerging from spontaneous paintings, or 'voices' released through creative writing, that speak from the parts of a person that have been submerged and unheard.
So, I was glad to have the opportunity to create an accessible and affordable online therapy programme for people to share in the magic that happens in my workshops and to experience it for themselves, in their own space, in their own time. The Art of Emotions online therapy programme allows me to support people remotely as they work independently 'alongside' recorded footage captured from the workshops. The feedback that I have received about the programme confirms that it has huge emotional benefits and is fun and interesting. I'm delighted that this is the case.  Click on the logo to enter.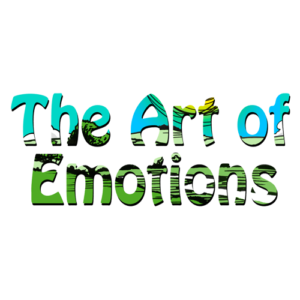 Free Online Art Therapy Workshops | Covid Art Therapy Project
We all have experience of the changes and challenges faced as a response to the Covid-19 virus. Many of us are needing some metal health support to get through these times. I've coordinated and facilitated this creative therapy project through The Art Clinic, Liverpool who received funding to create this, a free online therapy resource to support people to work through issues that were affecting their mental health during the Coronavirus crisis.  There are ten workshops reflecting various themes that are having an impact on peoples mental health and resilience. The public has decided these themes during a period of consultation.
Nine videos are accessible via the link below. These videos are guided online art therapy workshops. The tenth art therapy session is accessible on request. Guided art therapy workshops are beneficial for both individual therapy or group therapy sessions. A variety of creative therapy methods are used in these workshops. Visualisation, drawing and creative writing are the main art therapy tools I use in this series. Click on the logo to access via The Art Clinic website.